Leather Quilt

History
November 3, 2005 a madcap idea of making a "Leather Tribal Quilt" somehow managed to get conceived and sort of bubbled out of the mind of Master Steve of Butchmanns. In its first conception it was to be used as a fundraiser. Wiser folk identified that 'fundraiser' and 'donating' and 'travel fund' might get all mixed up and they complained that it was too complicated an idea. One besieged soul suggested it was somehow a secret plot to generate funds for personal use – laughing –YIKES. Well, to put all doubts to bed, the idea matured a bit and blossomed into its current status; The Leather Tribe Quilt. It is now its own beast – a moveable part of leather pride.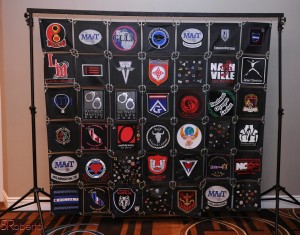 The Present
The Leather Quilt has grown too heavy to ship in one case now. It had to be split into two displays and can now attend even more events around the country. If you don't see your panel in the display, that is the reason. Every year the Curators will exchange the travel cases so all the panels can circulate all around the nation.
Since 2007, the Leather Quilt has been part of the Master/slave Conference. That year, MsC presented panels for MsC, MTTA, the Master/slave Flag, Master Taino's Leather Family, and several MAsT chapters from the region.
MsC is one of the few Conferences that has the pleasure of hosting both sections of the Leather Quilt.
More information about the Leather Quilt: www.leatherquilt.com